Ensure a clean and unclogged drain that flows smoothly with MVP Plumbing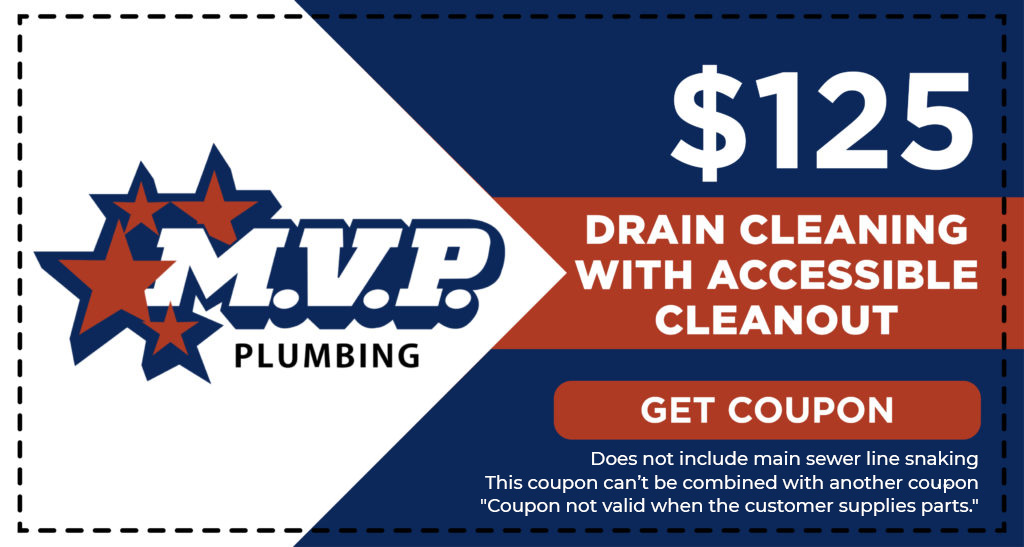 Do you have a severely clogged drain that you just cannot unclog, no matter how hard you try? Do not worry – MVP Plumbing is here to save the day with our expert drain cleaning service.
With the passage of time, all drains get clogged up at some point. The drainpipes accumulate debris and dirt from the grease, food waste, fats, and other substances that travel down the drain pipes. As the build-up increases, it blocks the flow of water inside your pipes and causes them to clog up.
At best, a clogged drain is a small nuisance that disrupts your daily life routine. A clogged drain can turn the simplest of tasks, such as doing the dishes or taking a bath, into much more complex ones. It can get quite frustrating and annoying if you cannot figure out what exactly the cause of the problem is and how to fix it.
However, at its worst, a clogged drain can wreak utter havoc on your plumbing system. If you ignore a clogged drain for long enough, the weight inside the drain pipe will build up and exert pressure on the walls of the pipe. If the pressure gets too much, the pipe will begin to leak water. It may even completely burst open in extreme cases. The leaking water may cause flooding, mold growth, and even permanent structural damage to your house.
Therefore, it is not a good idea to leave a clogged drain unattended. Choose MVP Plumbing now to get a clean and unclogged drain.
Why You Should Choose MVP Plumbing for Drain Cleaning
There are two main ingredients vital to a successful drain cleaning operation – a skilled workforce, and the use of proper tools.
With MVP Plumbing, you get both. Our team of highly experienced and informed professional plumbers has the necessary knowledge to unclog even the most severely clogged drains with ease. Using state-of-the-art cleaning techniques and methods, these professionals can clear your drain of dirt and debris in a matter of mere minutes.
We even carry out routine advanced training sessions for the entire team to make sure that each individual has a chance to polish their skills and remain up to date with the latest in drain cleaning methods.
Additionally, we equip all of our service personnel with proper tools and top-of-the-line, updated equipment with the latest advanced features. This enables them to execute their job and unclog the drains effectively and efficiently, saving both yours and their valued time in the process.
However, if a particularly reluctant drain refuses to get unclogged despite our best efforts, we even offer advanced sewer camera inspection services. Using this method, we can analyze the problem in greater detail and come up with a suitable plan of action for unclogging the drain and resuming the smooth flow of water from your drain.
Up-Front Prices for Drain Cleaning
At MVP Plumbing, we believe in giving priority to the needs of our clients. Our dedication to you has led us to introduce up-front, transparent, and honest prices for our drain cleaning services. We charge you exactly what we quote you, so you do not have to be wary of any additional or hidden costs appearing on your bill and taking you by surprise. Offering affordable and market-competitive rates to all of our clients, we are proud to be the drain cleaning service of choice for many people.
FLUSH YOUR PLUMBING PROBLEMS AWAY WITH EXPERT SERVICE
YOU CAN COUNT ON US TO HANDLE THE JOB WITHOUT A PROBLEM
Contact us today to schedule an appointment