EXPERT GAS LINE REPAIR IN CHANDLER,AZ AND SURROUNDING AREAS
Why choose MVP Plumbing?
MVP Plumbing Technicians are fully certified in installing 
PE Pipe

Black Iron Pipe

Gastite Pipe
If you suspect you may have a gas leak in your home, the first thing that needs to be done is, the leak must be located. If you smell gas near or around your gas meter, then immediately call your Gas utility department and have them come out right away. We do not recommend that you reenter the property until the utility service technician has cleared the house and said it's safe.  If you smell gas in your home or around your appliances, call MVP Plumbing right away. Next, exit the property and remain outside until your certified plumbing technician inspects the location of the suspected leak and clears the space. 
Types Of Pipe Applications MVP Plumbing is Certified in Installing 
Polyethylene Pipe/PE pipe
This particular type of pipe, requires certification and special handling. It is only used underground and outside of the home. PE Pipe also requires fusion of the pipe using a specialized fusion tool that heats the pipe which then allows the tech to fuse it together, completely sealing the pipe. 
Gastite Pipe
This type of pipe is stainless steel with a polyethylene jacket that is only used for natural propane gas inside your property hidden behind the walls and ceilings.
Black Iron Pipe
Black Iron Pipe is another type of steel pipe that is used for natural and propane gas however, it is not hidden behind walls although only used in the interior of the home, never on the exterior. 
Whatever the type of pipe that needs to be installed you can be confident that you have the MVP's of plumbing working on your gas line repair in Chandler, AZ and surrounding areas.
Signs You May Have A Gas Leak and Need A Gas Line Repair
Smell of gas in or around your property

Unusually High Gas bill

Fluctuating Gas Meter 
If any of these signs are what has you concerned, then call the professionals at MVP Plumbing. We invest in knowledgeable technicians that have the right certifications so that you can be sure the job will be completed safely, quickly and efficiently.
Gas Line Services We Proudly Offer in Chandler, AZ & Surrounding Areas.
Quake Shut-Off Valve Installment as well as Testing:
In case of an earthquake-triggered gas leak, these valves can be a huge lifesaver. Regardless of whether someone is home or not, in case of a huge earthquake, a spring-loaded shutoff device activates and automatically shuts off the gas. This quake shut-off valve could be all the difference between a gas leak or worse a life-threatening fire.
Gas Line Repiping:
Our technicians are adeptly trained in one of the most current repiping modern technologies and applications. This grants us the ability to properly resolve your gas repiping requirements with quality products that are guaranteed to last. 
Gas Leak Repair:
In order to restore your gas utility after a leak, you will need the right plumber tackling your gas line repair. Our trained and experienced team will put their training into action and appropriately assess and locate the leak. Because our plumbers are certified you know you have the best in the business working hard for you to get your gas utility service back on and your home running efficiently again. 
At MVP Plumbing, we believe in giving priority to the needs of our clients. Our dedication to you has led us to introduce up-front, transparent, and honest prices for our drain cleaning services. We charge you exactly what we quote you, so you do not have to be wary of any additional or hidden costs appearing on your bill and taking you by surprise. Offering affordable and market-competitive rates to all of our clients, we are proud to be the drain cleaning service of choice for many people.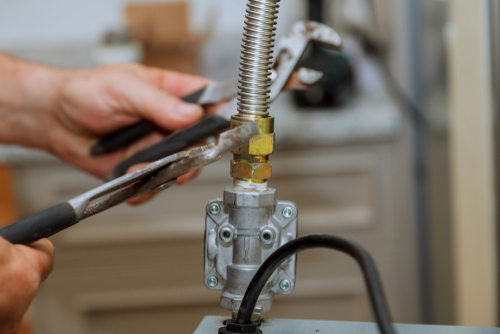 FLUSH YOUR PLUMBING PROBLEMS AWAY WITH EXPERT SERVICE
YOU CAN COUNT ON US TO HANDLE THE JOB WITHOUT A PROBLEM
Contact us today to schedule an appointment