Does the sound of dripping water from a mysterious leaky pipe haunt your house? Take action before it is too late!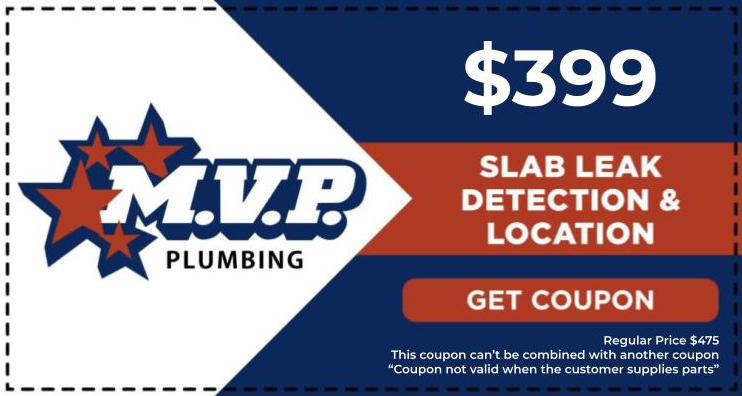 If you leave a water leak inside your house unchecked, it can wreak utter havoc on the structure of your house. Leaking roofs and flooded basements are all too possible occurrences, and if you still do not fix the leak, the water can find its way into the ground and weaken the foundation of your house. Rather than letting this happen, it is a better idea to be proactive and plug the leak in time.
Fortunately for you, MVP Plumbing has got your back. We provide excellent water leak detection and repairing services to protect your property from structural damages. If you know that you have a leak inside the house but have no idea where it could be, employ our services to find out quickly where it lies exactly and fix it before it becomes a much bigger problem.
Not only do water leaks cause physical damage to your property, but they can also promote the growth of mold and fungi inside your house. This can have devastating consequences on the health of the people living inside the building. Therefore, you should take steps to fix leaks as soon as possible, rather than just waiting it out.
Why You Should Choose MVP Plumbing for Water Leak Detection
We, at MVP Plumbing, use bleeding-edge technologies and non-invasive methods of water leak detection to save your property from costly damages later on. Using top of the line tools and equipment, we are able to pinpoint exactly where the fault lies accurately, and then rectify the problem before it gets too aggressive. It does not matter if the leak is under the ground or in a difficult to reach location; MVP Plumbing does not let any leak go undetected. All while preventing damage to your property and other pipes in your plumbing system, which is not possible with conventional leak detection methods.
Whether you have a leak at your residential or commercial building, MVP Plumbing has got you covered. We offer our expert water leak detection services to homeowners, municipal and industrial buildings, commercial buildings, property managers and developers, and educational institutions, among others.
Professional and Experienced Team of Plumbers
MVP Plumbing is proud of its team of experienced, knowledgeable, and skilled plumbers. Their knowledge and years of experience in the industry are a vital part of accurate detection of any water leaks that might exist inside your premises. Collectively, over the years, this has allowed them to detect thousands of water leaks and fix them in time.
All of our service personnel carry licenses and insurance to execute their job effectively. With MVP Plumbing, you can ease your mind about the quality of service that you receive. Additionally, we carry out routine advanced training for all of our staff to polish their skills and ensure that they remain updated with the latest in leak detection methods. This allows them to perform their job in a non-invasive way and prevent any unnecessary damage to your property in the process.
FLUSH YOUR PLUMBING PROBLEMS AWAY WITH EXPERT SERVICE
YOU CAN COUNT ON US TO HANDLE THE JOB WITHOUT A PROBLEM
Contact us today to schedule an appointment