Water Line Repair and Replacement
Restore your peace of mind with our professional water line repair and replacement services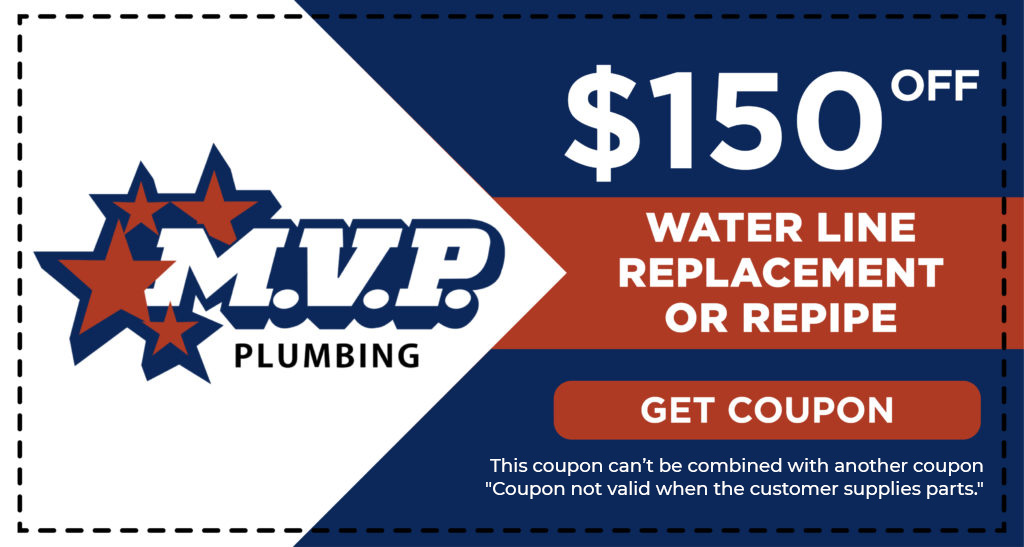 Why You Need Professional Water Line Repair and Replacement Services
If you have water leakage in your house or commercial property, it causes frustration as it leads to structural damage, water damage, and growth of molds. There can be different reasons for the leakage in water pipes such as poor quality material of pipes, excessive water pressure, and aging of the pipes. You should instantly address the problems related to water leakage. Otherwise, it leads to serious and more expensive piping and property damage issues.
Local Plumbing Specialists
For the water line repair and replacement, always rely on the local plumbing specialists. MVP plumbing is your local plumbing partner that is always here to serve you with your water line repair and replacement requirements. As your trusted and experienced plumbing company, we give a fair, honest, and professional assessment of your water line problem.
We recommend taking our regular plumbing inspection services to evaluate the condition of your complete plumbing system. This also helps in the identification of the potential problem even before it happens. Our team has extensive experience in performing expert water line repair and replacement services successfully. We have a large local satisfied clientele who rely on us whenever they need plumbing services.
Some Common Signs that Indicate Water Leakage
Here are some common signs that indicate that your property may have water leakage or you need to upgrade your main water supply line:
Aging or worn out pipes
Chronic water pipeline leaks
Corrosion signs
A rise in your water bills
Discoloration or staining on your walls
Constant running water sound
The appearance of molds or mildew
Damp carpets
How Does MVP Plumbing Help With Water Line Repair?
If there is a small leakage in your water line, the simple and most effective option is instant repair. As soon as you see or suspect a water leak in your pipeline, get in touch with MVP Plumbing. We are licensed, skilled and experienced plumbing professionals who perform safe, quick, and efficient water line repairs. Our plumbing specialists inspect and identify the water line issue and offer the most suitable water line repair. We try our best to prevent future problems in your water line.
How MVP Plumbing Helps You with Water Line Replacement
When our specialists diagnose the issue and find that it is not possible to resolve it with water line repair, we recommend replacement or re-piping of your water line. Our specialist plumbing team can do reroutes of water line as well as replacement of entire waterline of your premises.
We use the finest quality material combined with a high standard of workmanship to deliver excellent outcomes. Our experts assess your property water line needs. Based on it, we offer the best solution that fits your property's needs and your budget.
FLUSH YOUR PLUMBING PROBLEMS AWAY WITH EXPERT SERVICE
YOU CAN COUNT ON US TO HANDLE THE JOB WITHOUT A PROBLEM
Contact us today to schedule an appointment